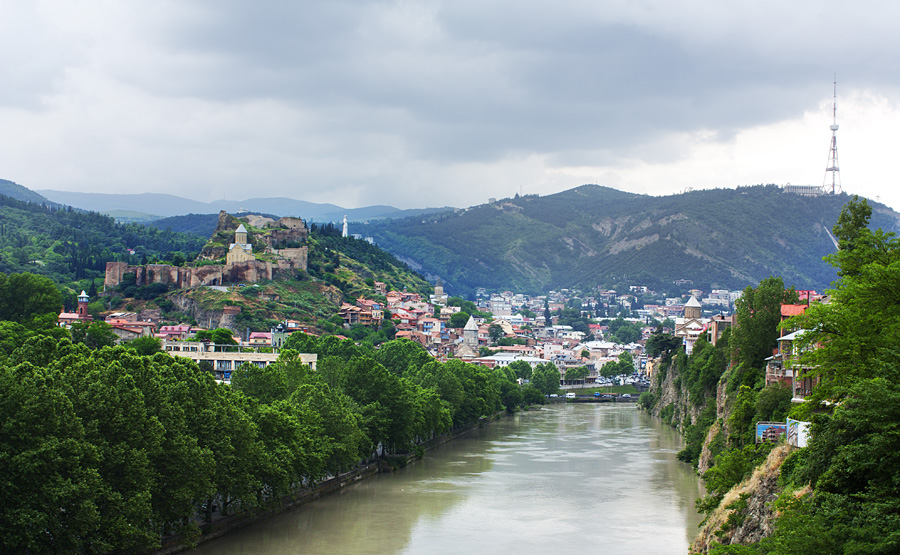 To Travel to Georgia, of course, you need to start from the capital. Tbilisi is considered one of the oldest cities in the world. It was founded in the 5th century AD by the King of Iberia - Vakhtang Gorgasali in places of thermal springs discovery. Today there are unique sulfur baths. This is, in fact, an interesting place, both in its architecture and purpose: a rigid sponge, elite service and a healing massage of a local bathhouse attendant are provided for you. Walking along the bath complex with numerous babbling brooks, you will find yourself at the waterfall in the gorge. Do not miss this pleasure.
The central square of the old town is called Meydan. Here you will make sure that Tbilisi really does not resemble any other city in the world. Multicolored balconies, colorful alleys on the gorge of the Kura River will forever conquer your heart.
Be sure to climb the rock on the river bank. In addition to visiting the ancient temple Metekhi, you will have a stunning view of the city. No less impressive panorama appears from the fortress of Narikala. The cable car leading to it, especially in the evening, is a short but magnificent adventure for the seekers of sensations. And, yes, in addition to the historical statue of the Mother of Georgia, on the very edge of the fortress there is a magnificent small cafe. Perhaps you will want to sit all night under the dome of the starry sky. But ... wishing to learn Georgian wine against the backdrop of a unique city more than the places allocated for it. Therefore, continue your way and go down to the Rick Park through the Bridge of Peace, built according to European standards. The real highlight of the park in the evening are musical fountains on the background of a variety of artistic compositions.
For children and adults in the city there is an amusement park with many entertainments and restaurants - Mtatsminda. You can get there on the wonderful tramcar of the funicular.
Once in Tbilisi, be sure to visit the main and largest in Georgia, the cathedral of Tsminda Sameba. It is the third largest temple in the world, the total area of ​​which is more than 5,000 sq. m.
And still, Tbilisi is a place where miracles live. Miracles as "The puppet theater Rezo Gabriadze" . These are absolutely fabulous performances, tickets for which are bought up much faster than on the representations of pop stars. If you still did not manage to get to the theater itself, then the building, the clock on it, the staging on the tower from the outside and the unusually tasty coffee in his cafe, truly will not leave you indifferent!
And of course, take a walk along the modern avenues of Rustaveli, Agmashenebeli. Architecture and majestic buildings are not inferior to Western European architecture.